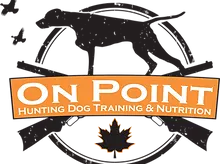 It was back in 2009, when Tanya Gates got her very first dog, a German short-haired pointer, that her interest in the dog world, specifically training and nutrition, really began. "I always wanted to have a very well-behaved dog, be a good canine citizen," Tanya explains. She met her mentor, Erika Rozsa Atkinson, the owner of Whitehorse-based dog school Canine and Company, and her interest in the world of dog training and food grew. "I found it really interesting what dogs could be trained to do - especially hunting dogs that are just very intelligent." Tanya is now an FCI certified training director for obedience, working with Erika at Canine and Company, and in 2014 she resigned from her full-time job and started OnPoint, a raw food company in Whitehorse.
For Tanya, the connection between nutrition and training is incredibly important. "You are what you eat, and the way that you feel is going to affect the way that you act. It's part of our puppy program - our fundamentals course has a whole talk on nutrition." Nutritional education is a large part of the programs at Canine and Company. "It's a holistic approach, because we're doing foundational training and nutrition is such a huge part of the foundation," Tanya says.
With a physical store in Whitehorse, and a base in Summerland and Parksville, BC, as well as a thriving webstore, OnPoint is dedicated to providing the highest quality products, while supporting and educating customers about the benefits of a raw food diet for their pets. "It's not so much about selling food - the food sells itself," Tanya explains. "It's more about educating people how this is biologically appropriate, the way your dog was meant to eat." Tanya continues her work as both a trainer and also a breeder - she breeds Hungarian Wirehaired Vizslas, and the raw food diet is incorporated from the very beginning of the puppies' lives. "They're fed raw their whole life," says Tanya. "I actually use Smack when I'm weaning the puppies onto raw off mom's milk, the first thing I feed them is ground Smack." Tanya sees firsthand the benefits of a raw diet in her dogs. "I see the results of what I have produced with puppies that have strong immune systems and have never had inflammation. I feed myself the very best I can - why wouldn't I be doing the best for canines too?" When the puppies go to their new homes, Tanya always makes sure to send them away with a bag of Smack.
When it comes to Smack, which OnPoint has sold in its store since it first opened, one of the main benefits for Tanya is the convenience of the dehydrated raw food it offers. "Here in the Yukon we're very active, with lots of outdoorsy people. I wanted to have a food that people bring if they're going camping with their dogs." Additionally, she has seen the benefits of Smack as a training treat through her work at the dog school. "We teach the dog to work for its food, and you can continue doing that with raw. If a pup's having trouble or losing it at the end of class, we bring the Smack out and they kind of wake up again - everyone calls me the Smack dealer!" With an emphasis at OnPoint on food that is free of added hormones and antibiotics, Tanya likes the fact that Smack Pet Food has nothing added to its product. "I like the fact that all the things come from the food itself. I don't like synthetics and these other things - I want the food to hold its own." As a trainer and especially as a breeder, Tanya is always focused on nutrition and making sure that her puppies are being fed the very best. As she says, "Food provides everything that the animal needs, in nature's form."
Read more at https://www.onpointraw.ca/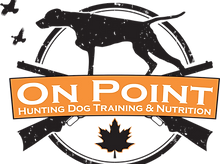 ---
"I like the fact that all the things come from the food itself. I don't like synthetics and these other things - I want the food to hold its own. [...] Food provides everything that the animal needs, in nature's form."
Tanya, Owner
---