MSAR Service Dogs has a unique goal: to change lives, one dog at a time. Based in Winnipeg, Manitoba, the organization provides world-class dogs trained to serve as working dogs, elite service dogs and therapy dogs. George Leonard, the founder of MSAR and MSAR Courageous Companions (their Alberta-based charity which provides service dogs to veterans and first-responders), developed the program to provide a different kind of treatment for returning soldiers suffering from PTSD - the first of its kind in Canada. A certified Master Dog Trainer, as well as a First Nations Band Constable, head of the Canine Unit and an elite SAR Tech, George was one of the very first people to bring a broader awareness of the ways in which trained service dogs can help those suffering from PTSD. Today, the MSAR and Courageous Companion service dogs are trained to assist people who suffer from a wide variety of medical conditions, both mental and physical.
The organization had its beginnings after George became involved in Search and Rescue, when the demand for assistance in finding missing and murdered Aboriginal people was on the rise, but little support was being offered. "Not a lot of people were helping us from the government," George explains. "The only ones that were really helping us were veterans." After spending time with soldiers who had returned from Bosnia and Iraq and seeing the struggles that they were having, George helped put together a pilot program. "We partnered with the Winnipeg Foundation and put together a pilot project of 300 therapy dogs that worked with soldiers, seniors, kids, autistic people," he says. "We compiled all of that information and made a service dog program out of it."
A feature segment on W5 in 2012 showcased the work that George and MSAR were doing with Canadian soldiers, and shone the spotlight on the service dog industry. "It just expanded from there," George says. Today, that service program is one of the top in the world. The only agency directed by aboriginal elders, advisors and First Nations leadership, MSAR has trainers in 13 countries around the world, including a training school in Israel, with approximately 6300 service dogs globally - 194 of those in placements in Winnipeg. "It's not just service dogs," George notes. "We also have a lot of working dogs all over the world." The working dogs are highly-trained to participate in cadaver programs, anti-explosive programs and even an anti-poaching program in South Africa to help protect the endangered rhinos.
When it comes to the dogs in their care, nutrition is of the utmost importance. Three years ago, MSAR conducted a dog food survey over the course of 18 months to better understand the best diet for their animals. "We went out and got every brand we could think of, we categorized it, we scored it, we measured it, and Smack came out at the top," George says. Ever since, Smack Pet Foods has played a key role in the daily diet of the service and working dogs. "I don't know too many foods where you have the option of it being a food, a treat and a topper," George says. "To have a food that has multi-variation, plus a longer shelf life… Smack is just perfect." Noting that Smack is their go-to food for any of the dogs with allergies, as well as all their senior dogs, and as a treat for training, George appreciates the versatility and convenience of the product, and the protein-dense, clean ingredients. "It's hard to find a food that high-quality," he says. "And all of the people that get our service dogs, I tell them, you want to fuel your dogs with the best foods. You feel better when you feed your dog Smack because you know it's good."
It's clear that MSAR is doing incredible work in the world of service dogs and is committed to bettering the industry. George is the president of the Canadian Association of Service Dog Trainers, as well as serving on the National Standards Council Committee, which is working to come up with a national standard for service dogs. MSAR also offers a training program of their own that is accredited through Yellowquill College. "We wanted to help stabilize the industry, because there are so many bad trainers out there," George explains. Even as they grow, their mission remains the same - the welfare, care, security and after-care of their dogs, and a global mandate to assist anyone; to serve all people and continue changing lives, one dog at a time.
Read more about MSAR's incredible work at https://msarservicedogs.com/.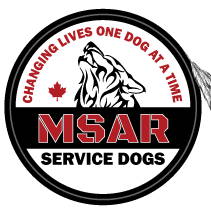 ---